Motown Records STML 12059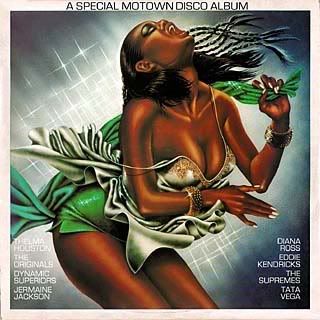 Going way back to the mid 70's for todays post. This was the heart of the Disco era,
Saturday Night Fever
was being filmed and the
Bee Gees
would soon destroy any credibility the genre had but for now it was considered cool.
'Disco was a dance fad of the Seventies with a profound and unfortunate influence on popular music.'


The Penguin Encyclopedia of Popular Music 1989
Although disco was the most prominent form of popular music in the 1970s, it never got the credit it deserved. 1979's
Disco Sucks
revolution and in particular, Chicago's
Disco Demolition Night
all but destroyed the
shallow, music industry gravytrain
globally but it also permanantly scarred the term
Disco
. Thirty years later it's still a negative term and the reason I'm putting in so much info here.
Prior to 1975, Disco was not a recognised word. In New York, the underground club scene was spawning a new hybrid. A mixture of funk and soul with a particular sound developed into a new trend that would eventually take the world by storm. Songs like...
Zing Went the Strings of My Heart - The Trammps (Buddah, 1972)
Soul Makossa - Manu Dibango (Atlantic, 1973)
The Player - First Choice (74)
...played by DJ's such as
Larry Levan
at
David Mancuso's Loft Nights
, fed a dancefloor monster with a growing appetite.
Meanwhile, over in Detroit...
1971 saw the release of
Motown Record's
legendary
Marvin Gaye
release.
What's Goin' On
moved Motown music to a new level, changed their singles perspective to include albums and moved a whole generation. In June 1972, Motown announced that it was closing it's Detroit offices and moving it's headquarters to Los Angeles. While the move probably made sense , many Motown fans believe the company's heart and soul was lost when it abandoned Detroit. Motown slumped between 1972 - 1976 with only one Top 10 entry in 1975.
Back in New York...
In 1974
Tom Moulton
was getting his first 10" acetate cut with nice deep grooves at
Media Sound
. Having run out of 7" blanks Tom got a 10" acetate and this
'accident'
led to the DJ Only 12" promo. The 12" Single was the final ingredient to the breakthrough of what would become, the Disco Remix. The first official 12" release was in 1976.
Salsoul Records
released
Ten Percent
by
Double Exposure
, a three minute track turned into an eleven minute opus by
Walter Gibbons
, and the rest, as they say, is history.
In 1976, the fortunes of Motown rebounded with six releases reaching the Top 10. Three of them reached #1, including
Love Hangover
by
Diana Ross
and
Love Machine
by
The
Miracles
. It's probably fair to say that Disco gave Motown a new lease of life. This album is clearly a collection of tracks Motown felt fit the bill. My favourites here are
Diana Ross
(Love Hangover is an Anthem!)
&
Eddie Kendricks
but
The Supremes
&
The Originals
are also fair tunes, if somewhat dated.
Thelma Houston
is a fine artist but
Don't Leave Me This Way
has been tainted with
Hi-Energy
success?
OK, I admit it. I bought the album mainly for the glorious cover art by
Helene Majera
. Seems she lost her way after this album cover.
;-)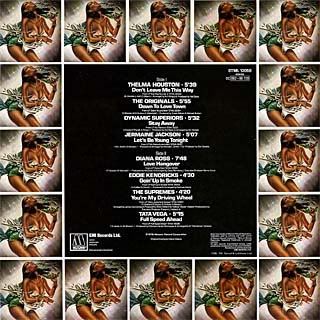 Thelma Houston - Don't Leave Me This Way

The Originals - Down To Love Town

Dynamic Superiors - Stay Away

Jermaine Jackson - Lets Be Young Tonight

Diana Ross - Love Hangover

Eddie Kendricks - Goin' Up In Smoke

The Supremes - You're My Driving Wheel

Tata Vega - Full Speed Ahead
The Download Link is here:
Download
Filename: A Special Motown Album.rar Filesize: 80.26 MB