RighTrack Records CD TUM 1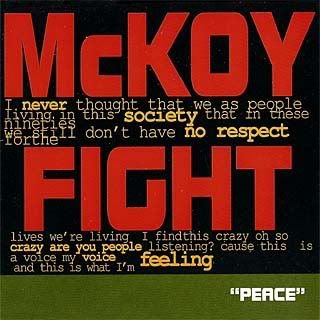 McKoy
features
Noel McKoy
on lead vocals with
Junette, Cornelle
and
Robin McKoy
on backing vocals. Noel is one of the unsung heros of British Soulmusic. Not just a singer, not just a songwriter, but also someone striving to promote new artists. He has performed with several U.K. acts including
Nu Colours, The Pasadena's, the James Taylor Quartet, Snowboy, Sounds of Blackness, Steve Williamson
and
Linton 'Kwesi' Johnson
. Noel came to prominence in 1989 when
McKoy
(the collective)
released the songs
I'm Lucky
and
Family
.
The next single,
Fight
, almost broke through. It was successful enough to get a release on a major label. This release, on his own
Rightrack Records
, features the
Original Mix
, produced by Noel McKoy and remixed by
Henry Holder
, the most soulful version by far although it is jazzy. The
City Lick Mix
by
Dodge & IG Culture
for City Lick Productions (as opposed to
Dodge City Productions
), features
Steffan Brown
on Bass, Henry Holder, this time on Keyboards and it's engineered by
Leo Grant
and
Giles Robinson
. It's the version with the most balls and although it's into hip-hop territory
it should not be missed
.
Paul Gotel's Belvedere Mix
, I initially ignored thinking it would be some kind of trancey dance job. Big mistake, it's another soulful R&B mix with a good feel. All good people, it's all good.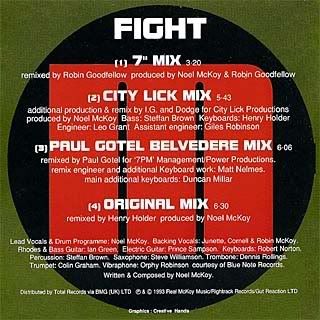 7" Mix

City Lick Mix

Paul Gotel Belvedere Mix

Original Mix
The Download Link is here:
Download
Filename: McKoy - Fight.rar Filesize: 31.21 MB