4th & Broadway Records BRCD 275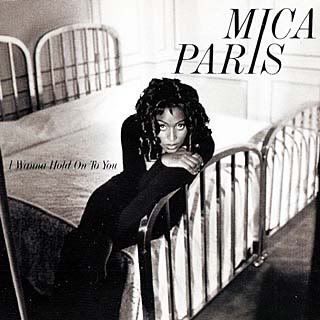 Michelle Wallen
is one of UK soul's finest talents ever since she burst onto the scene with her international hit
My One Temptation
. She started singing in church when she was seven years old. Paris changed her name from Michelle to Micha at age 16 and later dropped the h and has been known as
Mica Paris
ever since.
I Wanna Hold On To You
is a wonderful piece of soul written by Mica, N
arada Michael Walden
and
Sally Jo Dakota
. Walden also produced and arranged the song for her
Whisper A Prayer
album. On this release,
Absolute
takes it to the floor on the Radio Mix
(gotta be a longer Absolute Mix out there?)
while the
Old School Mix
by Steve and Paul
Jervier
(a.k.a. The Outfit)
takes the song into contemporary territory. For me though, as with many of Mica releases, this is all about the bonus track.
Say You Will
is a slow burning, solid soul shuffler that utilises her
deep rich sensuous voice to the max.

Now that's what I'm talking about!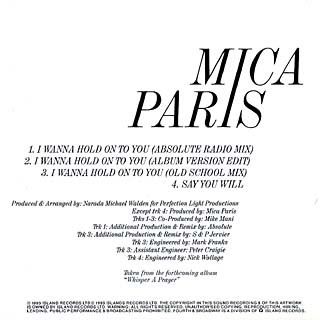 I Wanna Hold On To You (Absolute Radio Mix)

I Wanna Hold On To You (Album Version Edit)

I Wanna Hold On To You (Old School Mix)


Say You Will
The Download Link is here:
Download
Filename: BRCD 275.rar Filesize: 23.85 MB