Streetwave Records XKHAN 507
12:41
consisted of
Kris

'KRS-1'

Parker
&
'Scott La Rock' Sterling
before they became
Boogie Down Productions
.
Success Is The Word
has a great sound and a superb hook, the rap is pretty good for the era although I personally, used to play the
Instrumental
and
Dub
a lot.

I almost posted just the B-Side of this release because
Just-Ice
simply doesn't do this post
justice
. I guess if you like the Old School rap with all the demeaning and immature foul mouthed bullshit that kept it back for so long, then you might appreciate it. Still, on a positive note, the reason I left it on is because
Put That Record Back On
is a
Kurtis Mantronik
production.
Be warned,
That Girl Is A Slut
is not for mixed company?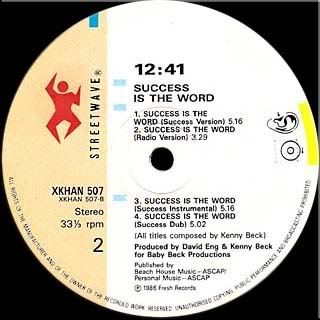 Success Version

Radio Version

Success Instrumental

Success Dub
Put That Record Back On

Latoya

Put That Record Back On (Instrumental)

That Girl Is A Slut
The Download Link is here:
Download
Filename: 12-41.rar Filesize: 60.57 MB