Elektra EKR 75 (T)
TP is in fine fettle and you'd never guess he was paralyzed from the waist down. The bonus track
'Let Me Be Closer'
is taken from his 1985 album
'Workin' It Back'
which marked his return after the RTA that could easily have taken his career,
if not his life
. Despite the scandal and the disability, Teddy
overcomes the odds
and puts out some fine albums that can rival some of his previous best moments?
This is the opening track and first single from the 1988 album,
'Joy'
recorded 5 years after Teddy's accident. In comparison to his previous Philly recordings, this album features drum machines and some electronic instrumentation. Fortunately, they are used well and emulate Teddy's classic soul sound very effectively. Note the
Calloways
in the production credits. I think the Dub version of 'Joy' works well, being a full vocal with a bit of echo
(rather than an instrumental with a bit of reverb vocal)
but either way, it's a good song.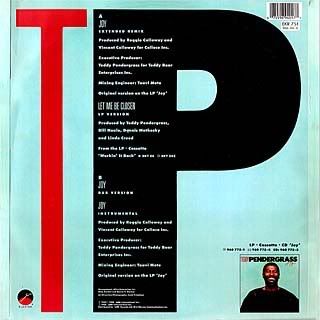 Joy (Extended Remix)

Let Me Be Closer

Joy (Dub Version)

Joy (Instrumental)
The Download Link is here:
Download
Filename: TP Joy 1988.rar Filesize: 34.02 MB